Does your desk look like this??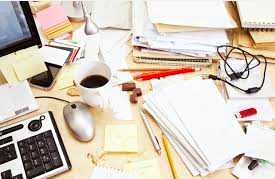 If so, stop what you're doing right now and make some sense of the mess. Whether you call it spring, summer, or just GENERAL cleaning, there's always time for this.
In fact. when we hold our 3-Month Accountability Workshops, one of the first pieces of homework we give is to focus by and clean off / out your desk and workspace. While this isn't necessarily an income generating activity (IGA), it definitely helps the mind FOCUS on the next task at hand. Your desk / workspace can be a reflection of your head — and sometimes, it's a scary place.
As I look across my desk now, I have lots of piles. There's the "Rental Analysis" pile with deals I still need to analyze, my urgent "Flip Analysis" pile of agents, sellers and wholesalers who are actively working on deals for me right now, the "Active and Pending Contracts" pile where I keep the back-up paper copies of executed contracts before a closing, and finally there is a "Not Time Sensitive" pile of backlogged work that doesn't have an imminent deadline (which could at some point drop to one of my 80% items, as shown below). Oops! And then there's the "Short Sale" pile filled with projects and action items for the short sale company, and then I have a "Non-AARE" pile of documents and action items for my Edible Arrangements, Huntington Learning Center and other investment efforts. Holy cow, it's a MESS in here!
As my very own desk makes clear, all of us can benefit from to a deep cleaning now and again, so we can focus a better on the priorities and "IGA"s with a clean slate and a clear head. C'mon, you know it's hard to focus when you're busy digging through piles looking for stuff or worrying about what deadlines you're missing because you don't know what's urgent and what's just made it to the top of the pile!
While this task can be daunting and takes some time, the secondary task is probably even MORE important: reviewing your efforts to date this year, and pinpointing what actually DOES lead you towards your goal and what isn't really effective. This is a vital check-in to schedule once a quarter, once a month, once a week, daily or sometimes HOURLY (for us ADD people!).  Ask yourself (1) what things do you do now that take up most of your time, and then (2) which of those things have the highest impact on your progress towards your goals?  I'm planning on doing this Friday of this week!
As the 80% rule suggests, most of your progress and results come from 20% of the things you do on a daily basis, meaning many efforts can be eliminated and your time reprioritized to help gain traction and clarity in what you're doing on a daily basis.
Remember — it's ALWAYS OK to stop, refocus, and reset your path if things aren't going the way you planned for them to go, or on the timeline you wanted. We learn as we go! I'm still learning every single day, with time management always and efficiency at the forefront of my brain.
Stay Legit and Never Quit!
~ Nick






by