It was July 15th, 2011.  A hot, but gorgeous day.  My partner Jen and I had just started the final preparation for what we hoped would be a fantastic day, filled with charitable giving and a great time for all our attendees and skydivers – new and experienced alike.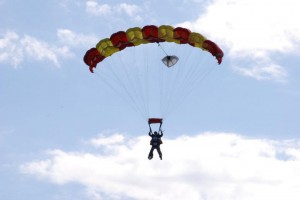 We had 21 registered "jumpers" – people who will be jumping tandem (with an instructor attached to them, who knew what they were doing) out of a plane, who had all raised a minimum of $500 from their friends & colleagues for kids & their families with serious illnesses.  What a FANTASTIC cause.  Half the money was going towards Aflac Children's Center, where they treat & research cancer treatments, and the other half was going to Merrimack Valley Dream Factory, a local "wish" organization that helped local kids, all whom had been rejected by Make a Wish, get to experience a lifetime opportunity – meet a Rockstar, go to Disney, trip across the country, etc.
I had never gone skydiving before, but had always had a nagging desire to always make sure that when I was on my death bed, I had no regrets.  "People don't ever regret the things they did – they regret more the things they did not do."  Skydiving was one experience I'd knew was different than anything else I was in for, and so, Jen and I had decided we'd do it together, and hell, let's make it a charity event.
I was so busy that day – we went shopping early on for all the burgers & food, sodas, coolers, etc we'd need to feed the party goers, stopped by the rental place to ensure we had all our items we'd need for the day (moonwalk, duntank, tents, drink machines, etc).  Check.  Got to Jumptown in Orange, and checked in the Diane, the manager.  How "AA"wesome was she – she let us have the whole outside to set up whatever we needed.
People started to arrive, the sports memorabilia raffle was set up by our good friend Jon Goode of the Lowell Spinners, and the party began.  They called the first round of jumpers into the main training room, for a briefing before they went up.  "Cool," I thought.  Let's see how the view is when they're on their way down."  It was the first time skydiving for all 6 of these brave souls – 2 of them over the age of 60.  Truly, a "Bucket List" item – but moreso a conquering your fears moment.  But I wasn't thinking about any of that yet.
They put on their gear, lined up in front of the plane for a picture, then headed up.  Nothing had really hit me yet, as I was so busy running the event, and making sure everyone was having a good time.
"Here they come!" yelled someone at the fence, looking up.
6 of our 21 jumpers were on their way through 60 seconds of freefall, before they pulled their parachutes.  Attendees were clapping as they all floated to the ground, some doing tricks, spinning around, whatever they pleased.  What I did NOT expect, was the purely emotional response that came from these first jumpers.  Two of them were smiling and crying at the same time, saying what a life changing experience it was, as they walked towards the spectators at the party, and cameras flashed.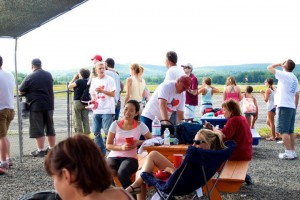 "I was flying!"
"If young kids can go through their terrible ordeals, I knew I could at least jump out of a plane for them."
"I did this for my neighbor's daughter, who's suffering from Leukemia."
"When I wake up in the morning and am dreading doing something, calling someone or starting a tough task, I think to myself,      "Hell, I jumped out of a plane at 13,000 feet, with nothing but faith in my gear & my instructor I'd make it down alive.  If I can do  that, I can do anything."
"If I can do that, I can do anything."  This last comment made me smile.  I loved watching them all come down, although only half paying attention, as we were trying to get the drink machine & cotton candy machines up and running.  It hadn't hit me yet.
Another group went up, and came down – same reaction.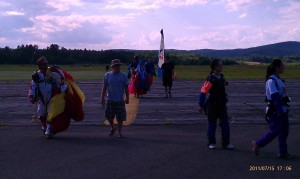 Then another.  And finally, 3 hours later, I heard my name called over the loudspeaker.  It was my turn, on the last plane of the day.
"Crap – I need to make sure Jen knows the plan," I thought.  Still thinking of what small organizational items needed to be done, rather than the experience I was about to have.  I was so focused on getting information to Jen, I was totally late for the instructions part.  I barged in when they were finishing up.
"Just give me the essentials!"  I laughingly yelled.  The older man threw himself on a saddle, and said, just do THIS, while he arched his back, bent his knees, and put his arms out in front of him.  Easy enough!
We then proceeded to the dressing area, where people put on their flight suits, packed parachutes, fired up the video cameras, and waited for their instructors to tell them what was next.
I decided to be the only one without a jump suit on.  After all, it was hot, and I wanted my AAwesome Kids T-Shirt on when I landed for branding!  (For those that saw the in-flight pics later, wearing shorts with a very tight buckle coming up between my legs, was a BAD IDEA.  For those that haven't seen the pics, you don't want to, I promise.)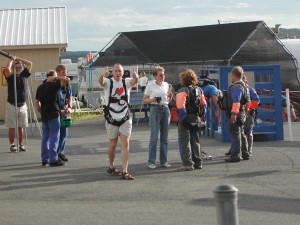 My instructor, Chris, grabbed me and asked if I was ready for an experience I'd never forget.  "Sure!" I said.  It occurred to me, only at that very moment, how very scared of heights I was.  As a kid, I had glasses since I was a baby, as I always failed the depth perceptions tests – when you look down, I could never tell if it was 6 inches or 6 feet – it all looked like 100 feet to me.  I decided to share my thought.
"I'm a bit afraid of heights, Chris, but I figured it's probably time I got over it.  My tagline in the real estate industry is to SHUT UP and DO IT, so I suppose I'm following my own advice today."  I wish I'd said that with the confidence that line normally exudes for me, but all of a sudden – it was hitting me.  What the HELL am I doing??  Couldn't I have just raised money the normal ways, through a 5K run, or golf tournament or something??
Too late now.  Chris guided me up into the plane, alongside Nyrik & Katia Huuskonnen, Mary Kelly, a few of Rhiannon & Pete's friends, and all the tandem trainers.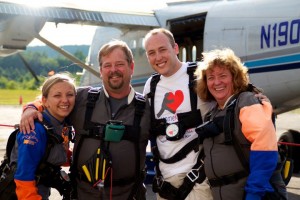 I opted to buy a video, so my videographer was in the plane with me.  He didn't help.
"Getting nervous, Nick?"
"Nah.  OK, maybe a bit.  How many times have you guys done this before?"
"Believe it or not, this is our first time.  It's always our first time when we're up here.  Isn't that right, Chris?"
Chris (my tandem jumper):  "Sure – and PS, I'm afraid of heights too.  Won't walk a roofline, but this is technically safer.  I really    hope the chute's packed right."
I found later on, if the trainers think you can handle it, they don't reassure you and make you more comfortable – they do their best to make you sweat.
I started thinking more on WHY I was doing this.  I'm passionate about my children's charity, but really – talk about never staying in a comfort zone.  I remembered the faces as they emotionally and victoriously walked from the landing site of all the others, and told myself THAT was the reason why I was doing this.  To overcome my fear, to do something challenging, and to not have any regrets.
"What's your altimeter say, Nick?"
"12,000 feet."
"That's right, time to go."
Time to go.  3 words that have so many different and profound meanings, especially in this moment.
I'll never forget the one who went before me, Mary.  Her first time too.  I half expected a lot of people to chicken out at the last second, but Mary wasn't one of them – she was heavily into martial arts, also a very young age of over 40 (trying to be careful in this post, since I don't know her real age!), and I knew she was committed.  Standing up and crouching behind her, I'll never forget as they counted down…
"3, 2, 1 GO!"  I still joke with Mary today, the scream she let out (more of a victory scream, not a scared scream) as her instructor lapt out of the plane – with her attached – is etched into my mind forever.  SHE DID IT.  I'm so proud.  Now, it's my turn.
"OK, Nick – when I say GO, I want you to bend your knees, and put your hands in front of you.  Do you want to do a backflip out of the plane?"
Hell, I came this far, and since I'm here, might as well go all the way with it.
"Sure, Chris – anything you say.  Just tell me what to do, and try not to loosen anything (insert VERY nervous laughter here, over the plan engine roaring).
"OK – I'm also going to WAVE to you to tell you when to pull your chute.  If you don't pull it, I will.  Deal?"
"Deal."
There is a chinese term, "Satori."  It means, being HERE, NOW.  You're not thinking of ANYTHING ELSE except sensing where you are.  It didn't matter if I had a term paper due, if I had a real estate closing I still needed to prepare for on Monday, if I had lost $100,000 in the stock market years prior, or even if my whole life was in crumbles around me, divorce, foreclosure, fire, etc etc…  All I was focused on in that one moment, was my breathing, the task in front of me, and the surrealistic picture in front of me, which is now burned into my brain forever – the floor of the plane in clear view, and the picturesque greenery and Lake that looks like a tiny, tiny painting 13,000 feet down, in the same view as the plane floor.  "it's not even real," I thought to myself.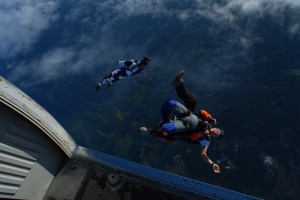 "OK… bend your knees… HERE WE GO… 3,2,1… GO!"
The next 5 seconds were completely blacked out.  I truly don't remember what happened.  Sensory overload, they call it.  Experiencing something you never have before.  I was upright, then not, then facing the ground.  I was told to keep my eyes open to "see the plane flying away from me," but that was an impossible task at that moment.  (I've since gone a second time, to really experience these things, and they ARE indeed glorious!)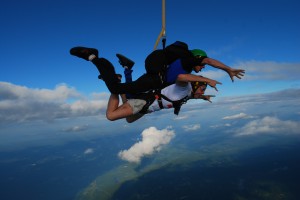 I opened my eyes at around second 6, with nothing but wind in my ears – and one of the most beautiful sites in front of me.  Still a  surreal picture, Chris was a pro – he gave me a thumbs up, basically asking how I was doing.  I returned it with my own, and he  started slowly spinning around, to change the view.  Damn – this is one of the craziest and most beautiful experiences of my LIFE…  all those faces, I NOW know what they were explaining, but their emotions alone.  But I couldn't think of that now, I'm focused on  arching my back, even though Chris is in control.
The videographer was in front of me, waving, trying to get me to make faces and gestures as I was falling to around 6,000 feet, when Chris would give me the wave to pull the chute.  I'm having a BLAST.  He's spinning around at this point, videographer is doing some tricks, Chris gives me another Thumbs Up sign.
I gave him a thumbs up back.  He gives me another one.  Oh wait – that was a thumbs up sign, or "the pull chute" wave?"
Before I knew it, Chris reaches over my shoulder and grabs my chute, and pulls it.  And now – the 2nd most incredible ride of my life ensued.
A slight jerk when the air catches the chute, we were literally floating.  And I remember very vividly, the view of the landing site, the forest, trees, baby ant cars, the 5-fingered lake, everything.  The sound was literally a comforting silence, except for Chris pulling on the parachute, showing me how to direct myself, turning slow, turning fast, pulling both down to literally give us a weightless feeling… one of the coolest feelings I've ever had.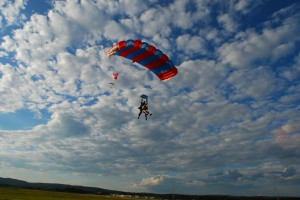 As we circled the landing site, doing twirls and quick turns, and prepared to land, he asked me:
"What did ya think?"
"Dude, Chris – this was literally the most amazing experience of my life."
"I know, right?  I do about 7 of these a day – and it never gets old."
A 10 second silence.
Chris:  "It makes one think – some people hate going to the office, every single day.  The stress, bosses, paperwork, and all that.  Nick, look around – THIS is MY office."
That's when I knew I was hooked.
As we landed, I looked up at the crowd of attendees who were gathered by the fence watching, as they cheered & took pictures.   All us Jumpers as we landed got up, and looked at eachother – all with a victorious look in our eyes.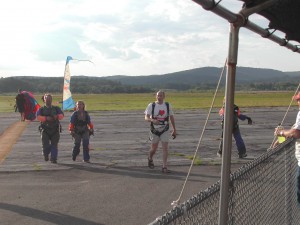 We walked together in a row back to the dressing room, discussing the experience, feeling the rush, knowing why we did it – to conquer our fears and to support a fantastic cause.
All 21 jumpers that day, knew our personal lives and our businesses would never be the same.
After the plane shut down for good that day, the grills lit up, we had a master BBQ chef on duty (thanks Dave F!), and everyone – including the trainers & instructors – gathered around a firepit to discuss the days events, over a beverage or two.
Everyone made that day what it was – the party attendees & spectators, the jumpers & instructors, our sponsors, the manager & trainers.
I remember riding back up with Jen the next morning (a bunch of us stayed overnight), we smiled at eachother, and knew we HAD to do it all again next year, for our charities, and to promote the personal growth that only this experience can provide.
"Extreme Events for Kids with Extreme Illnesses" had just launched it's first hugely successful fundraiser.  With many more to come.  Congrats to Jen, as this was all her idea to start, and who convinced me to actually Shut Up and DO It.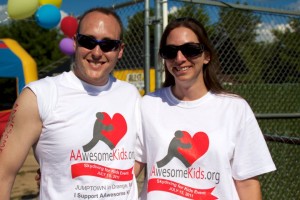 If you have an idea for an "extreme event", or want to come join us July 14 of 2012, or for another event in the future – LIKE US on ourFacebook page AAwesomeKids.Org , or shoot an e-mail to AAwesomeKids@gmail.com and we'll be sure to add you to our newsletter.
~ Nick "AA"lerud
www.TheAARealEstateGroup.com
www.NickAalerud.com
www.AAwesomeKids.org






by