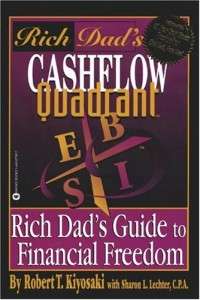 Many of you have read Kiyosaki's Rich Dad Poor Dad.  In Cashflow Quadrant, he goes further and explains the different types of people when it comes to money.
He does another excellent job of breaking down exactly how each type of person thinks, and how it directly affects where they end up – whether it's working for someone else (E), working for themselves (S), setting up business systems (B), or becoming an ultimate investor (I).
Kiyosaki also breaks down the 7 levels of investors:
0: Those with nothing to invest. They spend everything they get or more than they get.
1: Borrowers. They borrow from one creditor to pay another.
2: Savers. These people put aside money regularly to consume later and they pay cash for everything.
3: "Smart" investors. These investors know that they must invest. There is three categories in here: A – I can't be bothered; B – Cynic: They know why investment won't work; C – The Gambler: They "invest" because it is the smart thing to do, but they don't bother with the details and often end up gambling on these investments.
4: Long-term investors. They are actively involved in their own investment decisions and are aware of the tax consequences of their investments. They are not big-time investors but know where they are going in the long term.
5: Sophisticated investors. These are the people that can afford 'riskier' investments because they have good money habits and a solid financial base. They are clear on their own principles and rules of investments.
6: Capitalists. These are the people that use other people's money and other people's time and create their own investments.
He brings you through each step to climb the ladder of investment sophistication.  And of course, in true Robert Kiyosaki fashion, he gives interesting and relevant anecdotes along the way, making Cashflow Quadrant a great read!






by