Keep an eye on our Facebook page for the video & photo updates on this beauty.  Made a new relationship with a wholesaler on this one, looks like we are now ready to start chasing witches!  Like us on Facebook here.
The plan here is to demo the rest of the house, all new electrical, plumbing, insulation, verify new HVAC, level out the floors, new floor plan in 2nd unit and 3rd floor (attic).  Hardwood floors and recessed cans throughout, high-level cabinetry and stone tops.  Custom bath fixtures.
The existing 2 units each with 2 beds and 1 bath, will be converted into:
Unit 1 (1st Floor):  2 Beds / 1 Bath (same config)
Unit 2:  4 Beds / 2.75 Baths with open flow kitchen, in-unit laundry
Both units to get storage in basement, Unit 1 to get laundry in basement.
Both units with 98% efficient furnace units
Before Pictures: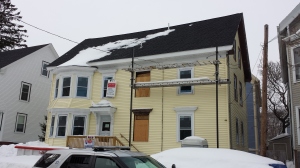 by