Well, here's how smart I was.  Every once in a while, you should allow a SECOND or even THIRD contractor to come and bid the job, so you can be sure your own guy is still honoring rock-bottom pricing (in exchange for volume) for you as an investor.  In this case, I had a personal friend of mine who was also a contractor, who had done a lot of work for me before.  I knew I wanted HIM to get this job.
The first issue:
He wasn't a licensed GC.  No problem – we were going to have him do all the minor stuff then (drywall, hardwood, paint, etc) and bring in subs for the bigger work.  I LOVED this guy's work, so I really wanted him to do as much as he could.
We signed the contract, and things were going great.  He was even putting all the trash from the demo into the garage, so as not to let on any work was being done, until we could pull the big permits.
And then all of a sudden, the BIG RED STICKER.  Some of you know what that is.  I've gotten it a few times before.  It's usually not as big a deal as people make it out to be, but it turned out that the previous owner was a drug dealer, and the city officials watched that corner like a HAWK.
Bam.  One setback.
Well, no worries or hard feelings – we called in our GC to continue & finish the job.  Now it's in good hands.  However, we paid the first guy around $2K for the demo work and drywall he did.  When the new GC came in, contractors typically love to point out the flaws in the others' work – he made the argument that now he would have to "fix" things the other contractor did wrong.  In the end, I agreed to save a relationship – out another $2K.  We started from scratch.
Our second problem:
My $309K number was based on selling it as a 2-bedroom.  I'm usually very good at "imagining the possibilities" through the feces, clothes, dirt and dead roaches that normally come with foreclosures, but the layout on the second floor, into that weird third storage room, I just couldn't figure out.
My GC calls me – "Nick – what would you say if I told you I can get you a third bedroom?  It would only cost $15K."  Well of COURSE I'm curious.  You are too!
"Let me run the numbers and get back to you, to make sure the third bedroom would substantiate the investment.  By the way, you'd do it for $13,000 for ME, right?", I said as I batted my eyes—or pointed to my wallet.  Either way, he said yes.
I re-ran the numbers.  Being a 3-bedroom in that area, boosted my QS ARV price to $319K – $329K.  Basically, it seemed it would be a wash – $13,000 for a $10K – $20K price jump.  But here's where I made the decision to increase the functionality of the space.  Even if it would NOT increase our return on investment, I felt it would help get a buyer to commit and close faster.
As you may be able to see in the pictures, he ended up framing out & insulating a staircase, coming up FROM the kitchen (next to my fantastic bar), into the tiny attic space, which then turned into the 3rd bedroom.  Sweet, huh?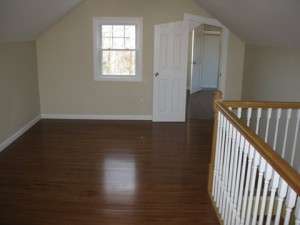 Now, our QS-ARV is $319K, and rehab is up to $83K.  We're STILL ok.
But… remember that "tiny bit of mold"?
Our mold guys came in – and found more than a tiny bit.  In fact, a LOT more.  On every rafter & beam in the attic (which was only accessible through a TINY crawl space, on the second floor, with no steps going up), apparently mold had begun.  Mold bill came to an additional $1500.
Oh – and I forgot to mention – occasionally when you get those big red stickers, the city officials aren't really feeling very friendly.  They usually are a bit upset, and think we tried to pull a fast one by now pulling permits immediately.  THAT said, they tend to get a lot more strict doing their walkthroughs.
**Side note: One humorous point about the house, is that we came to the conclusion the wife didn't like the husband too much.  We imagined the husband would come home (after a long day of drug dealing) to read in his rocking chair out in his 3-seasons porch, while sipping a glass of scotch.  The wife decided it would be the perfect way to off him, by venting the gas fireplace DIRECTLY into that porch area.  Without even attempting to bring it to a wall or up to the ceiling.  Take a look at the pics – it's kind of amusing.
So – check out what we did with that room.
We got rid of the fireplace, tore down the exterior wall, and we insulated the room, and gave it new windows.  Added 144 more square feet to that baby, and it's RIGHT off where my bar is, to make it perfect.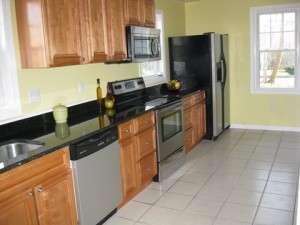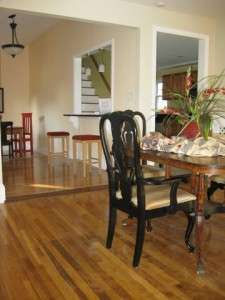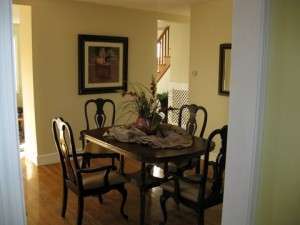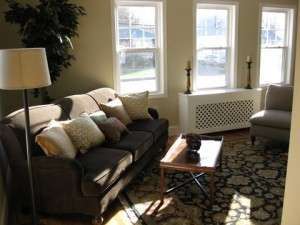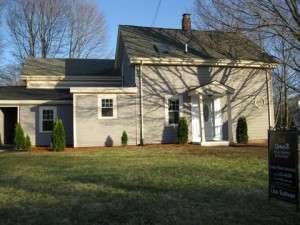 That said – extra $4K to rip down a wall, reframe, drywall, prep, patch & paint and install tile.  (This was a GREAT deal – I would have estimated around $6K for the work they did).
Last tip on this one – YES, I'm a licensed real estate broker.  However, when I'm in areas that are not my backyard, or that would take me an extra 45 minutes to show a property, I will ALWAYS hire a real estate agent that's knowledgeable with the area I'm working in.  Chances are, they already have buyers looking for your property, know exactly how to price it (so you're not TOO conservative, and leave money on the table), and are able to get it sold quicker.  Oh – here's a secret – good ones also do some light cleaning for you, or know of a low-cost cleaner to come and make the place shine.
We staged it for $1,000, and made sure we paid the agent a full commission, to ensure the co-broke incentivized other buyer agents in the area.  Best part was, our agent though it could sell for $359K – so we priced it at $349K, and would drop it in 14 days if no offers.
Finally, the job was done.  Was it a homerun?
Acq:  $184,500
Rehab:   $91,500 (we're doing some extra work for the buyer – I wouldn't normally recommend, but we like the improvements)
Holding Costs:  (estimated – still being calculated) $7,000
Sales Commission (estimated):  $20,700
Resale Price (Under Contract):  $335K
We DID get a few offers at full price, but they had more contingencies than we wanted to deal with, so we went with a stronger offer.
Potential Profit:  $31,300
No home run.  But isn't real estate a great game, when you only hit a single, and you STILL make half as much as others do in a year?
Hope you enjoyed the story – Happy Investing!
PS – Come see my last talk on "Finding & Analyzing the Deals" in Portland Maine on June 9!  Spend the day at the beach and swing on over…  I think I will!  http://www.mainereia.com






by