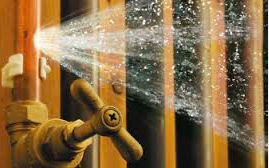 Well, it's that time of year again, with night time temps dropping into the 30s and the news reminding us to protect our outdoor plants from frost. Oh, those poor hydrangeas. This is also the time to make sure you're prepared to keep your holdings well-plowed, and the water pipes in your properties (especially the rehabs with no one living in them over the winter) have been properly winterized. It sounds basic, but I can't tell you how often it's either forgotten or done quickly, cheaply, and incorrectly, with expensive consequences.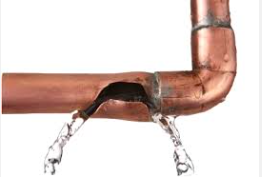 In fact, I have yet to work on a foreclosure or short sale that doesn't have a split water line or other damage to the pipes and interior from poor winterization. As winter approaches and a bank is holding (or "protecting," as they do in a short sale — completely sketchy, the subject for a different post) a property, what happens is they send in their contractor for short money to "winterize" the property. At best, they drain the lines and turn off the water — which is NOT enough to keep the residual water in the system from freezing, contracting and expanding, and eventually leading to a break in the lines. To be done properly, here's what they/you need to do:
• turn off the water main
• drain the pipes
• force compressed air through the pipes to remove any remaining water
• pour antifreeze into the sinks and toilets, boiler, hot water tank
• leave the faucets in the "turned on" position. (But don't get frisky!)
And if you're in the process of rehabbing a property during the cold weather and use the water while you're there, be sure to include it in your contractor agreements for them to TURN IT OFF when they leave at the end of the day. If it's in the contract, and you have water breakage, now both your contractor and insurance company know you're not at fault. And always test the water lines BEFORE you close the walls — trust me, I've learned the hard way on these points! (Another upcoming blog post. Sigh.)
And even when I remember to do all the things I know need to be done, I know there can still be surprises, so I ALWAYS budget extra for plumbing when I'm analyzing a property — you just never know what you'll find.
How about you? Got any good plumbing stories to share? Or tips on winterizing properties? And besides water concerns, here is a helpful checklist of winter preparations that will save you time and money once the snow starts to fly.
Stay warm and rehab on!






by