"Hi Nick,

Thank you for the Complete Dealflow System.  I really love it.  I'm about to launch my first door-knocking campaign.  I already have all your research tools and rehab estimators from the system to help me with my numbers.  Can you walk me through the basic steps again, once I get to their front door?"
Hi, glad you're pouring through it!!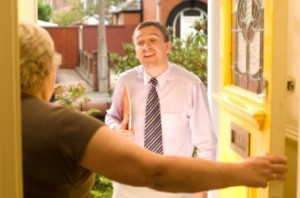 We do not have a script for specifically door knocking, just the procedure. It's very difficult to come up with a script for every type of homeowner or situation you will face.  You'll find the basic steps to any conversation with a motivated seller are very similar, whether on the phone or in person, scheduled meeting or cold call.
These basic steps, off top of my head (your Complete Dealflow System Binder is more thorough) are:
Build Rapport & Build Trust: Connect with them on a personal level (After all, you did just waltz off the street…)
Walk-Through Property:  Estimate the construction budget while listening to them
Educate them about their Options: THIS is the part where it's UTMOST important, to remember the cardinal rule of working with distressed homeowners:
You are NOT there to buy their house, you're there to solve their problem.
You'll be much better off coming to an acceptable offer situation if you phrase everything with that in mind, temporarily forgetting your dollar-per-hour and how much you want to make off the deal.
Pounding the Pavement is not for the Faint of Heart
You should also know only 1% of the time do door knockers immediately get a deal the first day they speak with a seller- i.e. you need to knock on 100 doors, to get 1 deal.
However, the power of follow-up now comes into play.
Most of my deals have been from follow ups, typically anywhere from 2 – 8  months after my initial contact.  Depending on their situation, you should call or visit them every 2, 3 or 4 weeks.  During each check-in, see where they are in the process of resolving their problem.
In short – do NOT get discouraged when you get doors slammed in your face, a bunch of no's, or just plain rude people… you're that much closer to getting a deal.  And DO NOT FORGET the FOLLOW UP!
Happy Investing,
~ Nick






by