Hi Nick,

I was wondering when/why a distressed homeowner would sign the deed over to a bank.  Is the advantage to have it not go to auction on behalf of both parties?

And when that is done, can a buyer be ready and willing to purchase it immediately?    Reviewing a few transactions via B&T, I have noticed a few of them.

Thank you!

Cheryl D.
Hi Cheryl,
I'm thinking the majority of these (90%) are from failed HAFA short sales.  These have been awful since the beginning – only a number of around 275 have successfully gone through.  The rest, when the bank either does not APPROVE a short sale price, or the 120 days timeline expires, the homeowner doesn't even really understand they already signed a DIL giving the house to the bank.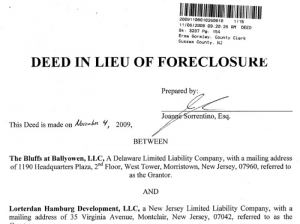 Rarely will a homeowner give it back…a "DIL" (Deed in lieu of foreclosure) on a credit report barely is better than "Foreclosure".  There's usually an action that prompts it, in this case, a failed HAFA short sale.
Once DIL goes through, it goes into the Asset Management / REO division, and goes through normal channels, where it's first sent to the REO agent they work with to prep it for listing.  Usually takes 90 days to 6 months before it goes live on MLS.
~ Nick






by