Not Your Average Rehab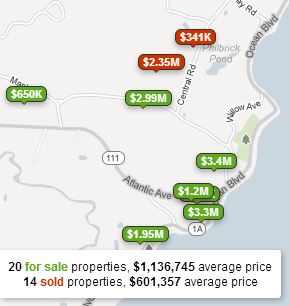 Our recent acquisition is up in North Hampton, NH – 4,000 sqft overlooking 13 acres and ocean views.  Being a coveted coastal town in New Hampshire, this house is surrounded by million dollar listings.   As you know, with that higher AVR comes increased expectations and even different design preferences.  
Don't reinvent the wheel—Modify it
When it comes to our mid-grade rehab projects, we stick to our standards, defaulting to whatever is most simple, commonly-liked, and cost-effective.  Finish standards derive from trying things out in one project, getting feedback from agents and buyers, and tweaking it until it is right.  The same principle applies to higher-end projects.  Our job is to modify the systems we have to fit this type of property and its buyers, while still being realistic about the cost/benefit of upgrades.  This North Hampton project will establish our standard finishes for similar properties going forward.  
One of these finish standards is wall color.  Normally, all the walls in the entire house get painted one neutral color, because the cost goes up with each additional color.  However, with 4,000 sqft, that can end up looking redundant and just plain boring.  Tossing in a couple different accent colors is worth it in higher-end houses.  Instead of trying to guess or scour through online articles about "Best Colors for XYZ," we opted to cut down on the guessing, testing, and feedback gathering by getting an expert opinion.
Time for a Pro
To maximize the benefits of using different colors, we called in Designer and Stager, Julie Chrissis, out of Manchester, NH for a "color consultation."  Being a stager, she understands the investor's goal of creating a homey feel, while still appealing to as many people as possible.  Also, her experience in designing for high-end clients in Greater Boston up to the Lakes Region of NH gives her more frequent insight into what the buyers in this price-point usually request, like, dislike, etc.  Possible rooms include the dining room, master bedroom, and bathrooms.  
Solving a Problem before it Becomes One
While she was walking through the house, she noticed an issue we hadn't thought about yet.  Vaulted ceilings.  The Great Room as well as the Master Bedroom have these wonderfully high ceilings, but it's not clear where the wall should end and the ceiling should begin.  This is something we would not have noticed until project completion when we'd be asking ourselves, "Why does that look funny?"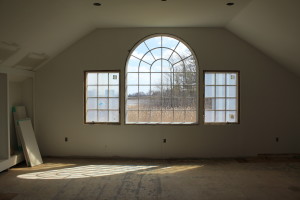 Look at the shape of the room.  No matter where the white ceiling starts, it will look choppy—defeating the whole purpose of a grand space.  So, Julie suggested painting walls and ceiling all one muted color, creating a clean and finished space.  See the pictures in her blog post to get the idea.
Where's the Value-Add?
Painting cathedral ceilings won't add to our resale price.  It only optimizes the existing selling feature, while hopefully minimizing Days on Market.  (Fewer Days on Market = lower holding costs = increased profit margin)
Instead of guessing what buyers want, we went straight to someone who hears it all.  By using an expert, not only do we have an updated color scheme for high-end projects, it turns out we minimized an issue that would have otherwise detracted from the house's appeal.    
Contact Julie at Chrissis & Company Interiors
Also, follow her blog for inspiration and space solutions!
—–
Note:  This project will be featured in our next Rehab Chronicles video series, coming out in June.  Catch up on old episodes in the meantime! 






by