It's officially summer and while everyone is sitting in Cape traffic, it seemed like a good time to share an update on our project in Orleans, which, as I shared in my Nov. 20, 2014 post, AA Real Estate has expanded our reach and entered into our first deal on the Cape, in the historic town of Orleans!
How's that going, you ask? Well would you care if I said we had NO DRAMA and everything went swimmingly?? Of course not. So, you're welcome. Keep reading.
Once we closed on the property, we prepared for our presentation before the Old King's Highway Regional Historic District Committee (per the building inspector's instructions), meeting with architects, drawing up our plans, and showed up at the appointed time, only to discover…..we weren't on the agenda. Yup, that's right — after a two and a half month building delay, it turns out this property is NOT in the the historic district, though a similarly named "Road" in Orleans is!
The building inspector was extremely apologetic and quickly issued all the needed permits and we got started on the demo and rehab. As we collected our permits and visited the various town departments, we checked in with the Orleans conservations committee to verify the septic system was in compliance and everything looked good. While we were there, we asked if there was anything else to coordinate through them, and they said we were "all set."
US: "You guys OK with us doing that 2nd floor addition on this one?" (the one they just approved septic design on)
THEM: "You guys are ALL SET."
Apparently, "all set" has different meanings.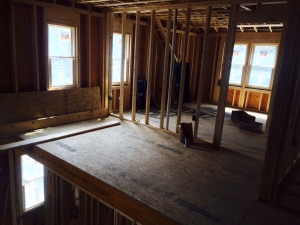 Then, as we began framing the second floor, a representative from the conservation committee visited the site and told us we had to "halt" pending our appearance before the board. The plans we submitted at the beginning of the project clearly showed the addition of a second floor, and now, three months into the process, the committee's representative said that a change to the living space of 80% or more had to go through the board at their next meeting — 45 days away!
Our engineer sprang into action and filed all the appropriate forms to prove there was no action required on this front, though we were delayed yet again until the official committee meeting, where they reviewed the plans, approved us to move forward, and made some minor landscaping changes.
We're still hoping that now we're truly "all set." HA!
My takeaways — it's all about trust.
This project marks our largest geographical separation from our home base so far, which only works when I have a team in place that I trust implicitly — and that's exactly what has kept us on track through all the unexpected delays on this project. And not having access to the MLS system on the Cape, doing this deal required that I trust the guidance of our local real estate agent team concerning pricing and marketing. My control issues flaring, I did what I could on my end and forced them to show me every comparable known — and now only time will tell if all our research should come in where we need it to.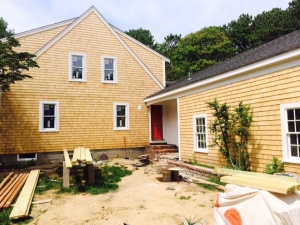 So, after much drama, we are close to catching up to our original timeline, and hope to have it completed and ready to list next week. Watch this space and the AA Real Estate Group Facebook page (which you really should "like" if you haven't already!) for all the beautiful "after" photos and link to the real estate listing.






by