I call this the "Quick & Dirty" Analysis
It is done before you submit the offer.  If you're one of those that submits offers FIRST and figures it out later (a dangerous strategy, at times), you'd do the quick analysis after there's a counter or interest is shown in your offer by the seller.
When you get good at this, it will take you 5-10 minutes, MAX.
Early on, it will probably take you 20-30 minutes.
Use a quick checklist (ours is a single page, 2 columns).  Start with the exterior, going from the top down.  For beginners, I suggest using a higher default value on each item, and add them up when you get back to your computer.  Hopefully, this rehab number is a conservative figure.  As you get better, you can assign a value to each item while you are on site.
Here's a sample checklist:
Exterior
Chimney / Flashing
Roof
Gutters / Downspouts
Soffit
Siding / Paint
Windows / Doors
Wood Rot
Porches & Decks
Landscaping
Driveway / Walkway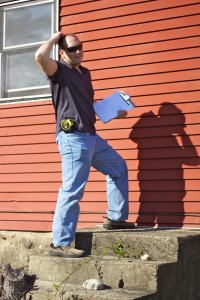 Systems
Now is not the point to get caught up in the details.  Assign simple values based on what is needed- replace? repair? clean & test? Each one of these has its own cost.
Does the boiler or furnace look old? A buyer will see that too. Maybe you just want to budget to replace it, so you don't have to deal with a buyer complaining it looks old. Does it have 8 arms, and scary white stuff all over it, and you don't FEEL it would pass a hazardous material inspection? Budget a bit more to deal with it. Perhaps from $4K – $8K, including disposal. But again – just a guideline.
Not sure if anything is wrong with the electrical, plumbing or HVAC? How does it look? If you have to, assign an arbitrary number to it, called an ALLOWANCE, to hopefully cover any issues you may come across.
Lastly, look at the Interior
Use a similar checklist to the exterior, going room by room.
Count the number of kitchens, baths, bedrooms, and total rooms. You should have a budget number assigned for each kitchen, each full bath, each half bath. This number would include tearing all the fixtures out, and replacing the floors, fixtures, cabs, counters, faucets, island, etc… leaving you with a gorgeous new kitchen.
Assigning a "Cosmetics Number"
Here's the tricky part – as you walk through the house, and are counting, you're also taking an "internal assessment" of the condition of things, and rating it on a scale from 1 to 10, 10 being mint condition, 1 being a blown up meth lab. (if it's mint, stop wasting your time and go after the sexy crappy ones!)
Depending on your area, and quality of finish work, and labor rates, assign a value to 1s, 5s, and 8s… called a "cosmetic budget."  This number covers paint, flooring, fixtures, trim, doors, hardware, banisters, and all the extra little stuff you can't think of right now, since you only have a few minutes.
In the Boston area, I've assigned a "cosmetic budget" of anywhere between $8K and $45K, depending on how old the house it, how big, how bad, and all as I walk through.  This helps cover the items I don't have time to count right now. You'll get a more details number together if your offer goes anywhere, or when it's time to take measurements and bring a contractor through.
Adding it all up
All these items added up, that you've made as individual checkboxes on your printable 1-page spreadsheet, give you your rehab budget. I always then add 5-10% as a "Fudge Factor" afterwards.
Practicing your way to faster walk-throughs
All that might seem complicated.  Most of my students would rather to do a full detailed rehab estimate on any given house, because it's within their comfort zone.  Believe me–it's natural to resist the 10-minute rehab estimate, because it feels risky to not over-analyze.  Once they master the process through practice, my students are surprised to find how close their Quick & Dirty cosmetics number is to their detailed analysis number.   Again, it comes down to practice, practice, practice.
If you want even more instructions on how to sharpen your rehab estimates, while significantly cutting down the time it takes, join me on November 10th for a full day of intense rehab analysis.  This workshop is limited to only 12 people, so sign up ASAP!
Happy Investing,
~ Nick






by