Being in the business of working with distressed homeowners, we real estate solution specialists see an awful lot.
…Foreclosures, short sales, mismanaged properties, out of town owners, medical problems, etc.  But, this story is definitely one of the more odd encounters I've had.
A wholesaling student of mine recently came across a deal in New Hampshire.  Many of you in New England investors already know this story, but I thought it interesting enough to share with the online community.
Everyone out there familiar with New Hampshire?  The LIVE FREE or DIE state?  I went to school up there for 4 years… and I've NEVER met more interesting people, including when I worked in the state legislature.  This homeowner is no exception.
Let's call the owner Joe.  Joe purchased this property in 1993 for a good price.  It's an 8-unit building in a nice older town in NH, with a decent school system, and with decent rents that would have cashflowed very well for him.  His problem?  He was NOT a property manager, and became quickly overwhelmed with keeping up with the tenants, the payments, turning over the units, paying the bills, etc… AND, as a true "Live Free or Die" native, he refused to pay property taxes.
All this, when put together, now has 6 units in the property vacant, and completely stripped and gutted, but filled with trash.  "I kept intending to rehab it, but never got to it," he said.  2 units are miraculously still rented.  Although, when asked for what he is making on the units, and what his expenses is…
"That's for accountants and the intelligent people to figure out," he replied.  That said, it made due diligence somewhat of an issue.  It's a good time, and we're going through that now.
However… an interesting statement he shared with us, as we were going over figures for what we could buy this property for:  "My life is not about money," he said.  The natural follow up question is, "what is it you're looking to get out of this transaction, and out of your life?"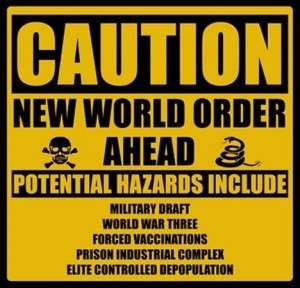 Anyone ever hear of the "New World Order"? Well, I suppose I'd heard of it… but boy, did I get a lesson over the next 4 hours.  So did the student.  I won't go into it now, but let's just say his world is indeed, NOT about money.  All he wants to do, is go to a remote place in the woods in NH, while creating copies of DVDs and newsletters to distribute, to spread the word on how the NWO is coming to take over the world.  "I'm a preacher," he said, "Although, not the sort you see in Church."
And for the closing?
He wants a certain amount in CASH – unmarked bills, in a BROWN PAPER BAG.  The rest, he wants in Double Eagle gold coins.  "I don't want any banks or anything that could link me to the government."
Ha – I've seen some GREAT stuff in this business over the past few years, but this one is truly a unique transaction.  Just thought I'd share.  Kudos to Don, who has been the major earpiece for Joe over the past few months, while we worked this transaction.  I'm sure between the two of us, if anyone wanted any DVDs or brochures on the NWO… we'd be happy to give them away.  Quickly.
Hope everyone had a relaxing Easter.
Happy Investing!






by