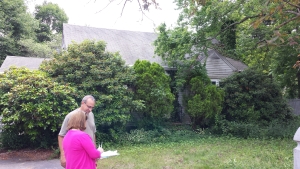 We recently closed on our resale of 6 Johns Av in Medfield — and this one was a doozy! The deal came to us from an elderly owner in a nursing home —  Medicaid had recorded a lien on their home and was threatening to take the property. With our background in short sales and lien negotiation, we were effectively able to negotiate with Medicaid and get them to approve our acquisition price, with the intention of taking down the existing structure and putting up new construction. Happens all the time.  Simple deal, right?
Part I: Medicaid
This is where the drama begins. Our team began negotiating with Medicaid to get this deal approved in March 2013 and soon discovered there was at least a 3-4 week lag time to get a response on each communication (thank you, government employees!).  Once we settled on a price they seemed okay to accept, it turned out the only person who could issue the final approval was retiring, and really didn't feel like doing any work for the two months prior to her last day — and she did not issue the approval before she retired in August 2014.  After her retirement and repeated attempts, not one representative "had the authority" to approve the sale.  People kept passing it off, or simply stating they "didn't have the authority."  Finally, our attorney started applying significant pressure to force the approval, and we ended up writing our OWN approval letter —  which we FINALLY got "approved" (some guy in an e-mail stating, "yeah, we should approve that when it closes") in November or December 2014 — a year and a half after we started!
Because the home was in such bad shape (check out the video), the closing to acquire was contingent on our getting permitting to demo and to start the new build. In preparation, I invested significant time and money on site engineering, architectural plans for the new home, getting it through the zoning board (a 3 month process), and getting it HERS (Home Energy Rating System) Index designed. Then another comedy of errors ensued.  When I submitted our plans to the fire department, they closed the station (they were relocating to a new station) and the chief went on sabbatical, which delayed fire department sign-off for four weeks. (God forbid they put anyone in place to sign off on these things while he's out!  Although, he was a great guy, so I'll let this one go.) Finally, when I turned it in to the building department (who were also awesome through this whole process), they informed me, "Before we approve this for demolition, there's this really simple process for you to go through the historical board, since the property is over 50 years old. But don't worry, there shouldn't be any issue, due to the state of the house."
"Really simple process."  Yeah, right.  I mean — why the heck would a 1960s built Cape home be historical anyway?  I assumed everything was going to be fine.
Part II: Historical Commission
With the historical meeting set for four weeks out, I notified all the abutters, and that's when I got the call from the chair of the historical commission.  When any member of a town board calls you, you know to be on your best behavior, and find out what liquor is their drink of choice (Kidding!!!  …. ?) However, my niceness was to no avail on this particular day. In this call, he proceeded to completely rip apart the new floor plans, that I (politely) informed him had already been approved by zoning and all the neighbors.  I was taking these attacks personally, due to the extra time and money I spent specifically on this floor plan, making it a custom colonial with extra add-ons, etc. (It all helped appease the neighbors and the ZBA, and there was the potential that a family member would move in to the house, so I spent a lot of time on this one).
Some notable quotes from that phone call:
HC:  "As you know, this property is historical."
Me:  "Actually, I wasn't aware that a 1960s Cape could be considered historical — my mistake, I guess.  Are you saying this house has historical significance?"
HC:  "Well, not your house specifically, but the area itself."
(My Attorney:  "The entire area of Metro West Boston is fairly significant, does that mean you have jurisdiction there?" — Not actually said!)
HC:  "I've taken a look at your floor plan, and I really think you can do better."
and…
HC:  "Have you ever heard of the golden rule?"
Ummmm, "no." And I'm thinking I've invested 2 years into this property, I've already paid $10K for a full set of construction drawings and a site plan, I've received all the other necessary approvals and permits, and the neighbors have submitted multiple complaints to me and the building department because of the deteriorating state of the pool, lack of security around it, and health hazard because of the mosquitoes happily breeding there while we worked our way through this labyrinth. And I couldn't do anything until I had approval from the historical commission.
The phone call ended with him saying "I don't want this to get adversarial at the board meeting."  And then he told me he would email me floor plans that I should consider instead of mine. Over the next three weeks, I received nothing, so I called the neighbors and asked for their support and presence at that meeting — just in case it got "adversarial." Heh. Further, thinking we'd have an issue, the day prior to the meeting I put up a For Sale sign, just as a backup plan.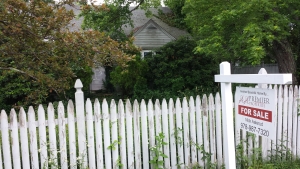 The night of the meeting was surreal. When I walked in, 5 or 6 board members were seated around a small conference table, with all the people there to present their plans and show support standing around the edges and in the back of the room — it was a full house. We were the third hearing and I listened as the two petitioners ahead of me successfully answered the two questions required by the board:
1. Is the home historically significant?
2. If yes, is the state of the property such that it can be rehabilitated?
Part III: The Hearing
As I'm watching them go through the other two cases, one submitted by a home owner and the other by a builder, I can see the board is taking their job seriously as expected — but still, both demolitions are granted without an issue. Phew. They seem reasonable. Now it's our turn. Sitting quietly with the neighbors, ready to discuss my case, the board proceeds to discuss the case on their own, going back and forth — so much discussion over a 1960s Cape!  As a side note, I called the building inspector before the hearing and explained that we were facing some serious opposition, to which he replied to me, "They have been over-stepping their bounds for years and if it gets to the point where it's necessary, I will tell them that if they don't grant you the demolition, I am going to condemn the building and force the tear down myself." Good to have at least one friend among the town politics! At least I felt I wasn't completely alone in this process.
The committee has already determined the response to the 1st question is "yes," due to that area of Medfield being all post-war Capes and they wanted to keep things consistent with that, even though I showed them pictures of the houses directly to the left and right of our property with gigantic additions that made them look like Colonials.  And the entire "area" is historically significant? If that's the case, wouldn't that apply to all of the state of Massachusetts?? Again, not actually said — but I really wanted to.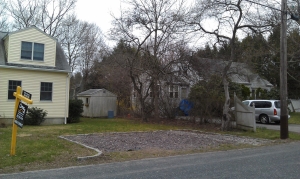 Anyway, we move onto the next question (is it reparable?), which is when they request input. The neighbors go first —everybody just wants it to be demolished, they voice their concern, some even begin to cry because it's in such bad shape and it's affecting their children and another abutter (a former building inspector), also voiced his support. Then they ask about the state of the property inside — they seemed a bit perturbed they were not able to enter the interior of the property prior to the board meeting because it was boarded up by the building inspector and marked with "Uninhabitable" and "Do Not Enter" signs posted all over it! (Maybe that should have answered their question?)
Due to a plumbing leak undiscovered for six weeks until water was flowing out the windows, the entire first floor was collapsing into the basement and structurally unsound, the roof had collapsed from the weight of the snow, filling the home with water from above and below, making it extremely unlikely to be rehabilitated. They debated for a while and asked for input from the current building inspector — and I was happy to provide his opinion, that he was prepared to condemn and demolish it himself. The board members found that helpful and they are prepared to take a vote when the committee chair, the same gentlemen who called me before the hearing, stops the action to discuss a few issues.
He then proceeds to stand up, tell everyone in the room about our phone conversation discussing the poor floor plans I had submitted.  He launches into a discussion of Greek architecture and proportions and how the current plans are not aesthetically pleasing, and we should really consider doing something different…
And I kid you not, it was like a CSI episode.
He begins to pull papers out of a folder, and one by one with a 6-second dramatic pause in between, he slides each page across the long conference table to me.  Three floor plans, all based on Campanelli ranch floor plans, plus one Cape. The room was silent, which only made the sound of the papers sliding across the table even more dramatic. The board waited while I took a moment to review the floor plans. I couldn't help myself.
Me:  "These are Campanelli-style ranch homes, except for this poorly built modular Cape home. I can't believe these are the plans you're asking me to consider. With all due respect, as a real estate broker and builder of over 150 homes (Ok, so some were rehabs — whatever.), these floorplans are so obsolete that no builder can afford to build them, save for modernized sprawling ranches geared towards aging buyers — this family member needs and deserves the home I've spent all my time and money on, making it almost perfect. I'm now taking this as a personal attack on my own efforts, and I'm doing my best to remain calm."
He again referenced the golden rule of real estate, sat down, and then literally pounded the table and said
"If it was good enough for the Parthenon, it's good enough for 6 Johns Avenue!"
I'm not kidding.  That's a real quote.   I'm beginning to think I have entered an alternate universe….
Finally, the co-chair steps up to get things back on track, and reaffirms to the room that though people on the board may not be happy with the floor plan, that is outside their jurisdiction, and since the plans had already been approved with the other agencies of the town, this would have to be addressed with me privately and off the record. Finally, a voice of reason. The board then proceeded to approve the demolition of the property. Drenched in sweat as I got up to leave, a voice from the other side of the table said, "Aren't you going to take those with you?" I couldn't control myself and I turned and said "With all due respect, the moment I jump back in time to 1950, I will seriously consider building these ranches for buyers in that time frame," and I left.
BONUS!!  While I'm not in the habit of openly antagonizing town officials, I had the nerve to toss out that reply because I was armed with three cash offers from local builders for the property and I knew that if this hearing didn't go well, I could just sell to one of them. The next day the demolition was approved and the very next day after that, I made the business decision to accept one of the wholesale offers, still making our minimum required return from this deal. Pa-POW!! And I estimate the new buyer will make at least $150K, particularly with the savings in time and effort to create plans, get all the necessary town approvals and go through historical.
Part IV: The Twist
And like all good thrillers, I've got one last twist to share — as the new buyer proceeded to go through the building department to start demolition prior to closing, the historical commission got wind that there was a new buyer in the deal and immediately said they would not transfer the demolition approval, and the new buyer would have to go through another board hearing, which would have delayed their project 60 days. I immediately jumped on the phone with the building inspector and the buyer and came up with a plan to completely avoid them all together — since we already had demolition approval under my name, I hired the buyer as a contractor for $1 to take the house down, therefore eliminating the historic commission's say in the house any longer.
I can only picture the chair of the historic commission, pounding his fist on the table and muttering, "I'll get you next time (Gadget), NEXT TIME."  While stroking his pet cat.
The closing went smoothly and construction is now under way. I don't know if I made many friends in Medfield, but I certainly learned a lot about the process and the local politics at play. And I also learned that 1950s Campanelli ranches are coming back into style!
Now to retreat back into my normal world of only pleasing my building inspectors.  Hey, if this were easy, everybody would do it!!






by