Wow.  Deal #107 sure is one for the history books here at the AA Real Estate Group.
You'd think I would have seen it all by now–or at LEAST that my exquisitively trained eye (through my AAwesome shades) would be able to come within a $10,000 margin of our rehab budget.  Well, $35,000 in change orders later, it's a brutal reminder that I haven't seen everything, nor will I ever.
After the dust settles on each project, we always ask ourselves the Big Question, "What did we learn on this one?"  For this Littleton project, the major change in the rehab cost was due to an unforeseen issue underneath the floor.  Let's break it down, shall we?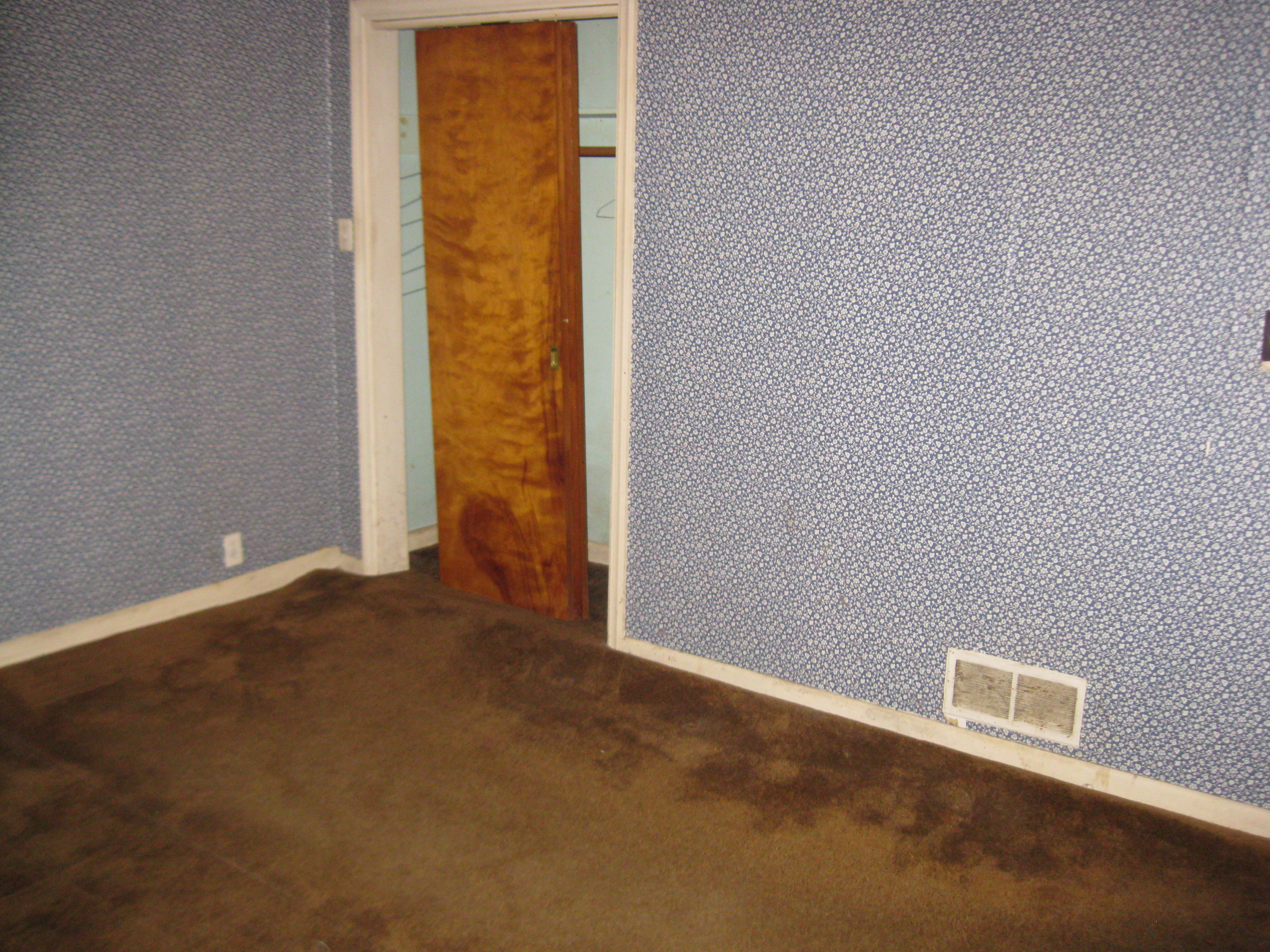 Believe it or not, a homeowner still lived in the property.  So, unlike a foreclosure or abandoned property, we couldn't even spend time or money doing some light demo to properly diagnose what the buckling meant.  I thought this problem was similar to one I saw before on our Harvard St house in Natick, MA (Deal #89).
It should be noted that neither an inspector nor our GC could get access to underneath the floors, as they perform a "visual" inspection only.  Also, under the house was a slanted piece of ledge, which is why there was no basement.  There was only a small crawl space under one corner of the house – But no access to the side of the house pictured above.
Based on this visual inspection, the buckling typically meant one of a few things:
1.  Best Case Scenario
Since we could only see the hardwood buckling, some moisture just could have gotten underneath it.  We only had to strip and replace the hardwood in the room ($850 installed).
2.  Second Scenario
The house had settled, and we simply needed to tear up the floor & subfloor, resupport it, and re-floor it (approx $3,000).
3.  Worst Case Scenario
The sill was rotten from pests or moisture, causing the floor joists to lie slanted a bit.  Strip & replace the sill over 15 linear feet, secure & relevel joists, and refinish:  $6,000.
Being conservative, we budgeted for the worst case scenario.  $6,000 was added into the budget to address the buckling problem.
Then, the floors came up…
Not only was there settling… but moisture came through a bad seal underneath the non-accessible crawlspace.  That moisture had rotten not one joist… but every… single… joist, in the ENTIRE HOUSE.  In the picture below, you'll see "moisture" was actually what appeared to be a duck pool sitting under the house.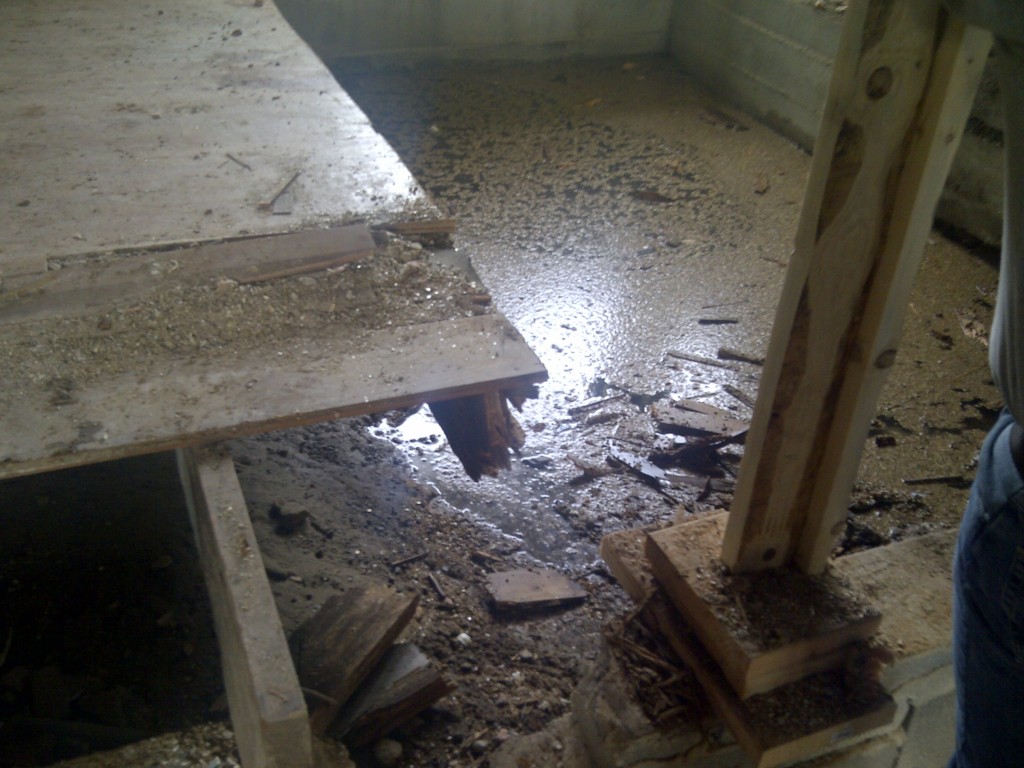 For those who aren't familiar, joists are structural.  The only way to properly replace joists is to demo every wall, ceiling, and floor until new joists and supports can be installed underneath –  of course AFTER waterproofing everything.
That wasn't all.  We found out the property-owner's brother's friend, "Uncle Jake," (who must have been a janitor at a local school) decided he knew how to do plumbing.  Of course, he knew nothing and did everything improperly, including installation of a waste line that DIDN'T QUITE make it to drain into the septic tank.  I'm sure this is also the Jerry-Rigging Genius who brought us the downspout as a plumbing solution.
Between the rotten joists and the terrible plumbing, it all added up to around $35,000 – above and beyond the original $6,000 budget.
So what was the total damage?
From start to finish, our original $80,000 budget became $123,034 in construction costs – and technically, still climbing with our final inspection report.   When you are hit pretty hard, it is tough to keep your mind clear and stay set on the end goal.  Your brain may then tell you to scrimp on everything else, or to list the price higher than you originally planned, but that all leads to bad financial decisions.
Learning & Moving Forward
The truth is – I truly and honestly can't think of a way to have eliminated the inherent risk that was present.  The same goes for any rehab, for that matter.  Having done now 110 deals, my job is to eliminate variables as they come up.  The more variables I eliminate, the safer the deal is – even with huge construction figures.  Had Littleton been a foreclosure or abandoned home, I may have asked permission, and put some money at risk to do a light demo to figure what we were looking at.
So, if there was no way to have foreseen $35,000 in change orders, what can I learn from this experience?
Firstly, I learned how to take hard hits in stride, without losing sight of what needed to be accomplished.  We needed to find a reasonable solution and finish the project correctly, all while still making it a beautiful home for our new buyers.
This experience also reinforced my conviction to always use conservative numbers in my analysis.  I always include a Fudge Factor in each rehab estimate, because you will never fully know what's behind a wall until you open it.  Had I not been so conservative going into the project, I would have ended up in deep trouble.
I can't be angry at myself for coming across one bad deal in 100.  At the end, I'd say 1% is a pretty good ratio.
And who knows?  Our current track record of how many deals we've lost money on… which, by the way, is ZERO… may stay at zero, as we bought this one correctly.  But Tsk tsk, we don't talk numbers until it's signed, sealed, and sold.  It's bad luck, you know!
Thanks for following the videos of The Littleton Rehab Chronicles.  Hopefully you learned a thing or two, especially on what to look for, and in this case, what we could not have POSSIBLY looked for – but how we dealt with it and moved on.  A logical head and steady hand are what it takes to get through some of the challenges like this one, and we appreciate you following it.
Check out our new Chronicles coming out, as we head up to the Arctic in Bedford NH!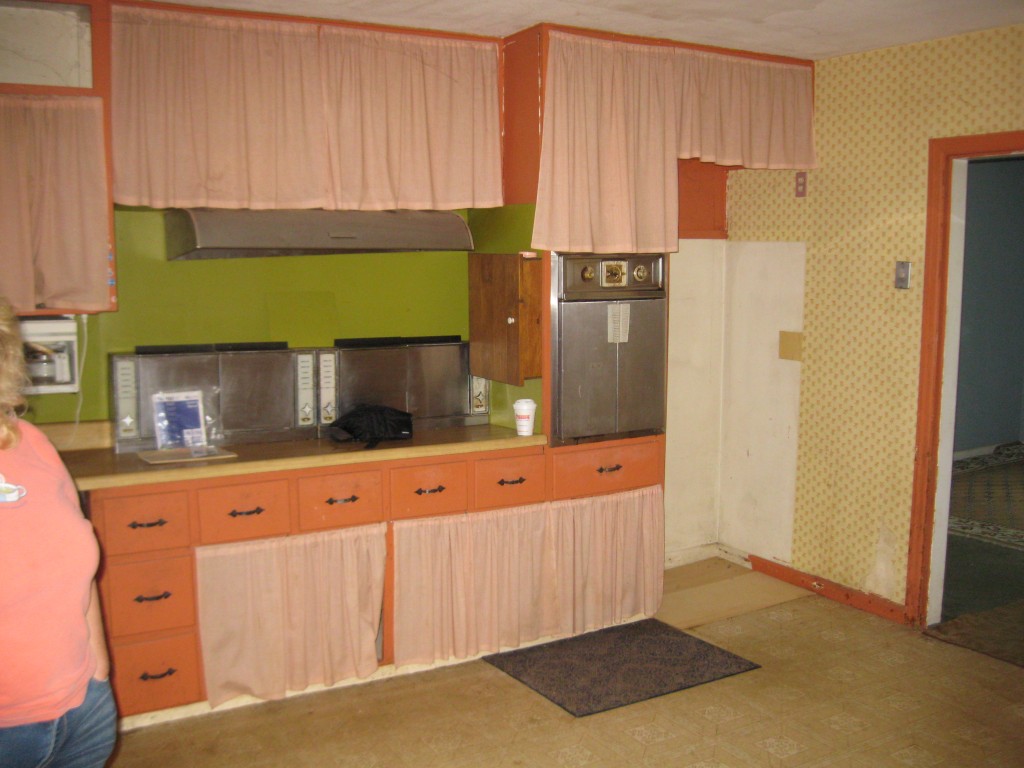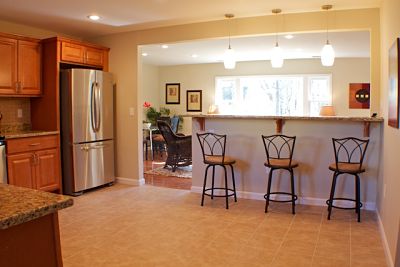 by