They say you learn something on EVERY deal.
It's true– I have not had one yet when I did not learn something, and I'm so grateful for that.  When I was a freshman in high school, my biology teacher told me never to call them "tests".  Instead, we were forced to call them "Learning Experiences."  Though I never quite agreed with that philosophy for school, I DO when it comes to real life situations.
All that said, my 105th project is finally on the market, with only a few hiccups.
1.  Ranch House = Sill Damage from Termites and Pests
Believe it or not, I have never done a ranch house before.  They've all been colonials, contemporaries, townhouses, multis & triple deckers, or gambrels.  (I just like saying the word "gambrel")
It should have been common sense, that if a house sits level with the ground and there's mulch or vegetation at all at the foot of the house, chances are, there will be wood-eating insects biting their way into the house.  But apparently, it wasn't, for me.  I've faced many termites before, but in this case, they ate 63 linear feet of the sill of the house (the piece of wood that's attached to the slab foundation, where all the rest of the stud supports are framed from).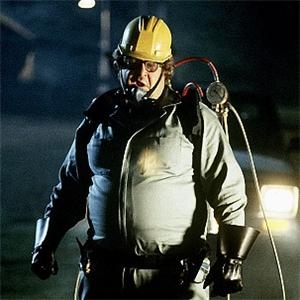 A pricy solution – normally, one would (in the words of John Goodman from Arachnaphobia): "Tear out bad wood, put in good wood", re-support & treat for the pests.  In this case, we could just replace the sill without first lifting & jacking up this side of the house… which is exactly what we (meaning, my excellent crew) had to do in this case.  Tear out the drywall, jack the house, lay new pressure treated wood using foundation nails, machine it back into the foundation, and reframe from there as needed.
This would have been the ONLY thing we had to do, except now, we…
2.  Opened Drywall = Now, Upgrade Electrical
We were going to upgrade the electrical service anyway to 200 amps, to service the new hot air furnace in the attic.  However, the wiring was still good, but most towns have a rule when you go to open a wall for any reason, it "becomes your problem".  We were forced to add in 3 more outlets and to rewire the whole section of the house to new construction standards, which wasn't too different from what it was, BUT… added more $$ to our costs.
3.  Loose Chimney Cap + Hurricane Irene = Water Problem
Wasn't too shocked to see that water had come in after our "tropical storm," as most of my houses that had NEVER had water before, also leaked a bit.  But I sure wanted to find out where it came from.
As it turns out, it was running down our chimney from a bad chimney cap.  We fixed the problem, but the worst part was this happened the FIRST week of showing the property to prospective buyers!
4.  Lawn seeding.
I only understand the basics of landscaping, and how I make things look nice for homeowners, but I'm pretty bad at flowers and designs, and whatnot.  We do a basic style for all our houses, which usually includes doing a lawn over… but I don't know WHEN to plant these stupid grass seeds.  In this case, we planted them in mid August, which (according to the online experts…AKA Google) is the WORST time to plant it, as the heat will burn them.  Couple that with not being able to get down to the property EVERY day to water them, and we had to re-seed twice to get it to take.  As I type this, it's still struggling a bit, although being in September, they now say it's the BEST time to seed.  I had to chase a few birds off, and pick up a few squirrels, whirl them around by the tail, and softly put them down into the tree down the street, but things seems to be doing a bit better.
Take that from your Green Thumb Section here at AA Real Estate.
All that said – we're over budget on our rehab, but that does NOT EVER REFLECT our listing price (remember that!)… we have to price according to the market ALWAYS, and the market will dictate how we sell this house.  It's still on the market as I write this, we've had a few offers, but none we are able to accept (investors are usually not able to accept a home sale contingency), so we're looking… post it on your FB to all your friends!
Happy Investing!
Nick






by