All-Day Intensive Workshop
Saturday, June 14th, 2014 in Woburn, MA


About the Workshop:
The workshop's only goal is to provide real world, practical information and techniques–without any pitching. Each person will leave with a comprehensive knowledge of DEALFLOW process.
The objective of the day is to give the attendees and get people to write offers and do deals and become a successful real estate investor in New England.  Nick goes in depth on each step and provides the same guides and documents he usually only shares with the students in his mentoring program. No part of wholesaling is left out, just ask Larry:
"Nick provides the steps to establish the essential components for wholesaling in a clear and concise, and enjoyable, presentation.  If you're thinking about taking this course, just do it.  You won't be disappointed." Larry S.

*** Reserve your seat today!!***
Outline:
· Building buyers list
· Building "power team"
· Finding & Marketing for deals
· Working with sellers: 1st phone call, 1st meeting, and beyond
– Live calls to motivated seller leads (Bring leads!)
· Evaluating the deal
– Due diligence
– Working with contractors
– SOW, getting estimates
– How to quickly run numbers yourself
· Choosing your exit strategy
· Structuring a win-win
· Writing offers
· Contracts
· Marketing the deal to your buyer's list
– Putting together wholesale package
– Open house
– Online marketing
· Selling the deal & getting paid
– Assigning contract vs. simultaneous closing vs. non- simultaneous closing
· Free up your time: get systemized
Because it is a small workshop, you questions are answered right away. This allows for more of a dialog instead of a dry seminar. Most importantly, you are given a real world action plan, broken down into weeks and months.
"He gave us his all, withheld nothing, and created a new family of wholesalers." — Jen S.
Attendees will also receive: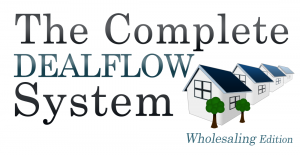 · Instructional manual: including processes/timelines & procedures
· Data CDs: marketing pieces, forms & contracts, checklists
*** Reserve your seat today!!***
More Testimonials:
"It is so easy to follow along with…  Someone could walk into that seminar and just know the 3 words, 'Real Estate Investing,' and I'm convinced that they can walk out being able to wholesale a deal…
"At the end of the day, I felt like everyone in that room, including  Nick, was now my partner in business." ~ Cheryl D., Weymouth, MA.
"I've attended many seminars in the past and feel that AAREMentor was able to get a three day seminar compressed into one day.  Of course you guys where able to do this because you weren't "pitching" us to buy other courses and or programs that you may offer.   VERY REFRESHING." ~ Gordon T.,  Hudson, NH
"The seminar was great and of great value for my time. I really liked the energy and the fact that Nick answered ALL of our questions."  ~ Mariah C., Reading, MA
"Had an AWESOME time, the event tied together any loose ends and filled in any missing pieces for me, I feel MUCH more confident about what I'm doing, especially making offers and putting the properties under contract. Thanks again!!!" ~ Chris O. Chelmsford, MA
*** Reserve your seat today!!***
"Those who took this course have no reason not to be successful… I believe we have been given all of the tools to do so." Joe M., Bedford, NH






by