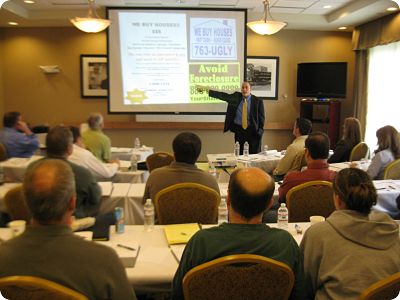 We had another absolute blast at our workshop this past month. The house was packed, and there were a bunch of great people with great questions. As normal, everyone was EXHAUSTED by the end of the day. This is typical for more intensive workshops–especially on a topic that could literally fill a whole week's worth of info, as I'm sure the students would agree. This is why I take a bit of a special "spin" on any class I put on. See, for years, "gurus" and national speakers sell tons of STUFF. This includes tapes, cassettes, CDs, manuals, bootcamps, and more STUFF. Many of us have our real estate guru "Library" we throw all that STUFF in, and then promise ourselves to take it out when the "time is right." I like to do things a bit differently.
In my workshops, I know that the data and knowledge you're getting is only secondary to the motivation and initiative it takes to actually set up your business and get you GOING. Even when a seminar or bootcamp is filled with great and useful information, it's can be so overwhelming, that you forget 90% of the specifics by the next day. This is why I have procedures and systems in place, because even I forget half of what we do (you know… with all the other great things floating around in my head), and I need to refer to my procedures on how to finish that one task, or do a deal this way, etc.
In other words – sometimes you need to do things in your business, you don't like to do. Sometimes, FOCUS, DEDICATION, PERSISTENCE and TIME MANAGEMENT are more important than what you learn… This is one reason why we give away the procedures and CDs at the end of my workshop. The attendees can take their focus and dedication with them and apply it the next day to the 10% of knowledge they remember and the 90% that's in the procedures & and on the CD.
I'm all for learning new things from gurus and teachers…only if you have the dedication and focus to apply it and see it through.
Thanks to all who have participated in our Sandwich, Worcester & Nashua workshops… we have a GREAT group! Only ONE workshop remains… all the way up with our friends in Portland, Maine. Coming soon to a theatre near you.
Happy Investing,
Nick
P.S. Special thanks to appraiser, Jack Lavoie, for his insight into ARV and Comps, and to Dave Fleckner for donating those tasty bagels from Bagel Alley in Nashua!






by