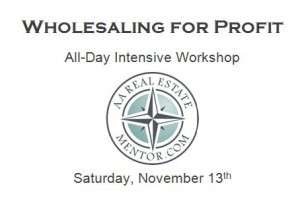 Do you want to get jump-started with wholesaling but are overwhelmed with all the information out there?
Come and Get the "WHOLE PICTURE"
a

t the full day intensive seminar on wholesaling
Details:
There is space for 10-15 people to keep the workshop nice and small.
The workshop goes all day with a break for lunch and networking.  8:30 AM – 6:00 PM
Price: $499 for Non-REIA members and $299 for MAssREIA & Associated REIA members.
** REGISTRATION BUTTON'S FOR THIS EVENT ARE LOCATED AT TOP AND BOTTON OF THIS PAGE **
About Workshop:
The wholesaling workshop is an intense full day in a small group setting intended to jump-start the attendee's wholesaling business with real world, local information.
The objective of the day is to give the you the "Whole Picture of Wholesaling," and you to write offers/ do deals.  Nick goes through every step to becoming a successful wholesaler in Massachusetts/ New Hampshire.  He goes in depth on each step and provides the same guides and documents he usually only shares with the students in his mentoring program.  No part of wholesaling is left out.
Outline:
Building buyers list
Building "power team"
Finding & Marketing for deals
Working with sellers: 1st phone call, 1st meeting, and beyond
o   Live calls to motivated seller leads (Bring leads!)
o   Due diligence
o   Working with contractors
o   SOW, getting estimates
o   How to quickly run numbers yourself
Choosing your exit strategy
Structuring a win-win
Writing offers
Contracts
Marketing the deal to your buyer's list
o   Putting together wholesale package
o   Open house
o   Online marketing
Selling the deal & getting paid
o   Assigning contract vs. simultaneous closing vs. non- simultaneous closing
Free up your time: get systemized
Because it is a small workshop, the questions are answered right away.  This allows for more of a dialog instead of a dry seminar.  Most importantly, Nick works out a real world action plan, broken down into weeks and months.
Part of what the attendees receive is a personalized one-on-one meeting with Nick any time after that weekend.  Most people get their business going and start on the action plan before they choose to meet with him.  This way, Nick can address any issues or obstacles they run into along the way.
Basically, we do not have any products to sell, so the workshop's only goal is to provide real world, practical information and techniques.  Each person will leave with a comprehensive knowledge of the wholesaling process.
Attendees will also receive:
Instructional manual: including processes/timelines & procedures
Data CDs: marketing pieces, forms & contracts, checklists
o   Interviews with key players in wholesaling
o   rehab estimate video
o   recorded calls with sellers
Post-workshop: 30 minute one-on-one meeting with Nick (in person or over phone)
Testimonials:
"The seminar was great and of great value for my time.  I really liked the energy and the fact that Nick answered ALL of our questions."

–          Mariah C.
"Had an AWESOME time, the event tied together any loose ends and filled in any missing pieces for me, I feel MUCH more confident about what I'm doing, especially making offers and putting the properties under contract.  I also think the additional materials provided (examples of craigslist ad's, property inspection sheets, etc.) were great.  I've recommended Nick's course to a few more people, so I hope you'll be doing more of these so others can learn as much as I did! Thanks again!!!"

–          Chris O.
Event Details:
Hampton Inn Worcester
110 Summer St
Worcester, MA 06108
8:30 AM – 4:30 PM






by