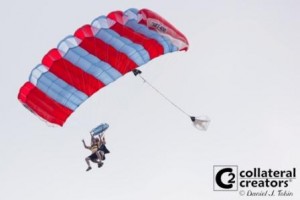 Several days after our Skydiving for Kids Charity Event (check us out: http://www.AAwesomeKids.org ), Jen and I looked at the spreadsheet, and couldn't believe our eyes.
Before I tell you what the spreadsheet says, I'll first tell you how AAwesome we felt the event went.  We had less jumpers than last year, even though 53 verbally said yes (life lesson – less than HALF of people who SAY they're going to do something, WILL do that something.  It's an unfortunate known fact, so plan for it!), which made us feel a bit down going into it, but we were determined to still make it a great event.  We were VERY happy to see that ALL our Jumpers were first timers!  Some were coming to overcome their fear of heights, some were coming to "check something off their bucket list", and others came just to support our two charities in a way no 5K or golf tournament could.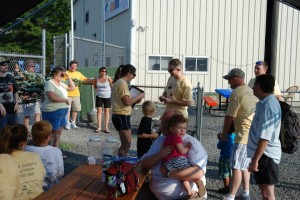 As the attendees at the bash watched their kids play in the moonwalk, dunk Jim, Jen and I in the dunktank, took a chance at one of the raffles we had going on, and enjoyed the big bash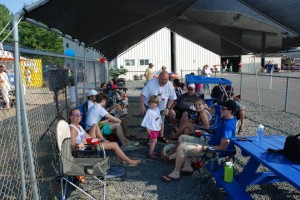 afterwards with the cookout & firepit with the tandem instructors, I knew this year would be just as special.  Shelly Wolfe (a former college roommate of mine, and now married to one of my best friends) came to show her (nervous) support as her husband took the class and they strapped on his safety clips.  "You better not kill him," she said.  "We have plans."
My plane, kindly dubbed "the testosterone plane", had myself, Brandon W., Ben H., John H, and Jim L. on it.  As we went up, now a pro, I pointed up at the ceiling of the plane, which happened to look like it was peeling back from the outside sheet metal frame.  "Anyone ever ask you why you'd jump out of a perfectly good airplane?"  asked my instructor.  "Now you know – it ain't really the best plane on the planet.  I think we're safer out there than in here!"  They loved to tell jokes to lighten up the newbies.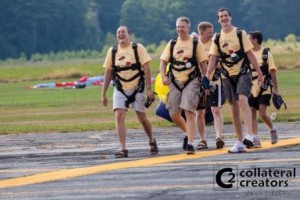 As we all went through that incredible experience, leaving the plane and doing something absolutely crazy we knew would both better ourselves and support a great cause, we landed safely on the ground and started to walk back.  Shelly was so overcome by the look on all our faces, that she grabbed Jen, and just HAD TO sign up and experience it for herself.  This was the same experience Jen's sister Karen had – which goes to show how something that could have been one of my deepest fears (heights, specifically, falling from them), now has turned into an inspirational activity that changes lives each year – for our Jumpers, and the kids we support.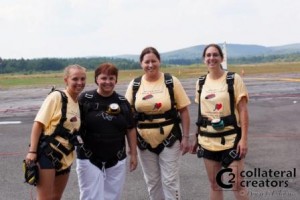 All that said – we're proud to announce that after raising just over $4,000 last year for the two charities, this year, we raised over $10,000.  My charity, the Merrimack Factory Dream Factory, already has the dream lined up for one special boy, Seamus.  A parapalegic and eating through a G-tube, he always wanted to go to Disney.  And part of the money raised this year is going to give him the trip he will never forget, with special VIP treatment from the airline, to VIP treatment at the park.  I'll be sure to take pictures next time I meet him & his family.
Lastly – I just received an e-mail that Dream Factory (one of the 2 charities) is also nominating us for a National Award – "Most Unique Charity Event", which will be published in some big magazine.  Exciting stuff!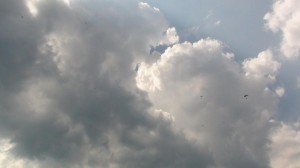 Again – I want to thank everyone for making the day something Jen and I still can never imagine, and for raising the bar on our money raised!   We sent the community a tremendous message to say how much us business owners and real estate investors care for sick and terminally ill kids and their families – and what better way to do it than to challenge yourself and get out of a comfort zone while doing it?
A perfect match.  🙂
To getting out of YOUR comfort zone, each and every day.
Happy Investing,
~ Nick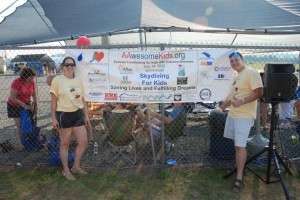 by