Black Diamond REI

In 2012, Nick Aalerud teamed up with Ann Bellamy of Buy Now Hard Money, LLC and Julio E. Vega & Daniel Stroe of White Picket Fence, LLC to create a new kind of networking group called Black Diamond Real Estate Investors. Click here to learn more about us. This group meets the 3rd Tuesday of every month in Worcester, MA and the 4th Tuesday of every month in Waltham, MA at Ristorante Marcellino.
Next Meetings (Note TWO locations!!)
Tuesday, September 17, 2013 – Worcester, MA
"Estimating your Rehab in 20 Minutes – Encore Presentations!"
Part I: Exterior and Mechanical
6PM Networking begins
6:30 Program begins
Does a property go under contract to someone else while you're still pulling your rehab estimate together? We're going to go through a property and give you the "Rules of Thumb" that will help you do the Quick and Dirty estimate in about 20 minutes. This is not a substitute for going through the property with your contractor in detail, or developing a detailed scope of work and contract, but will allow you to quickly estimate what a rehab will cost so you can make an offer on the spot. More details here…
Venue: Coral Seafood Restaurant, 225 Shrewsbury Street, Worcester, MA
Tuesday September 27, 2013 – Waltham, MA
"Save Your Gas, Sit on Your @$$"
Part II: Multi-family deals
6PM Networking begins
6:30 Program begins
Ever bought a multi-family and wonder where the profit went? Looking for another but don't want to get burned? The agent says it's a Cash Cow, but what if it's just a Pig with Lipstick? Can you really make it cash flow at $200K per unit? Ann Bellamy is going to give you some rules of thumb and ways to screen income property so you know which properties you can dig deeper on, and which ones to leave for the "bigger fool". More details here…
Venue: Ristorante Marcellino, 11 Cooper Street, Waltham, MA

Other Events
To find more real estate investment group meetings or community events check out our network!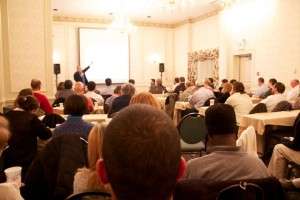 Photos courtesy of Do Something Different, LLC,
taken at the March 2, 2011 NEREIA meeting.
Exterior and Mechanical