Cutting Losses & Drawing Lines!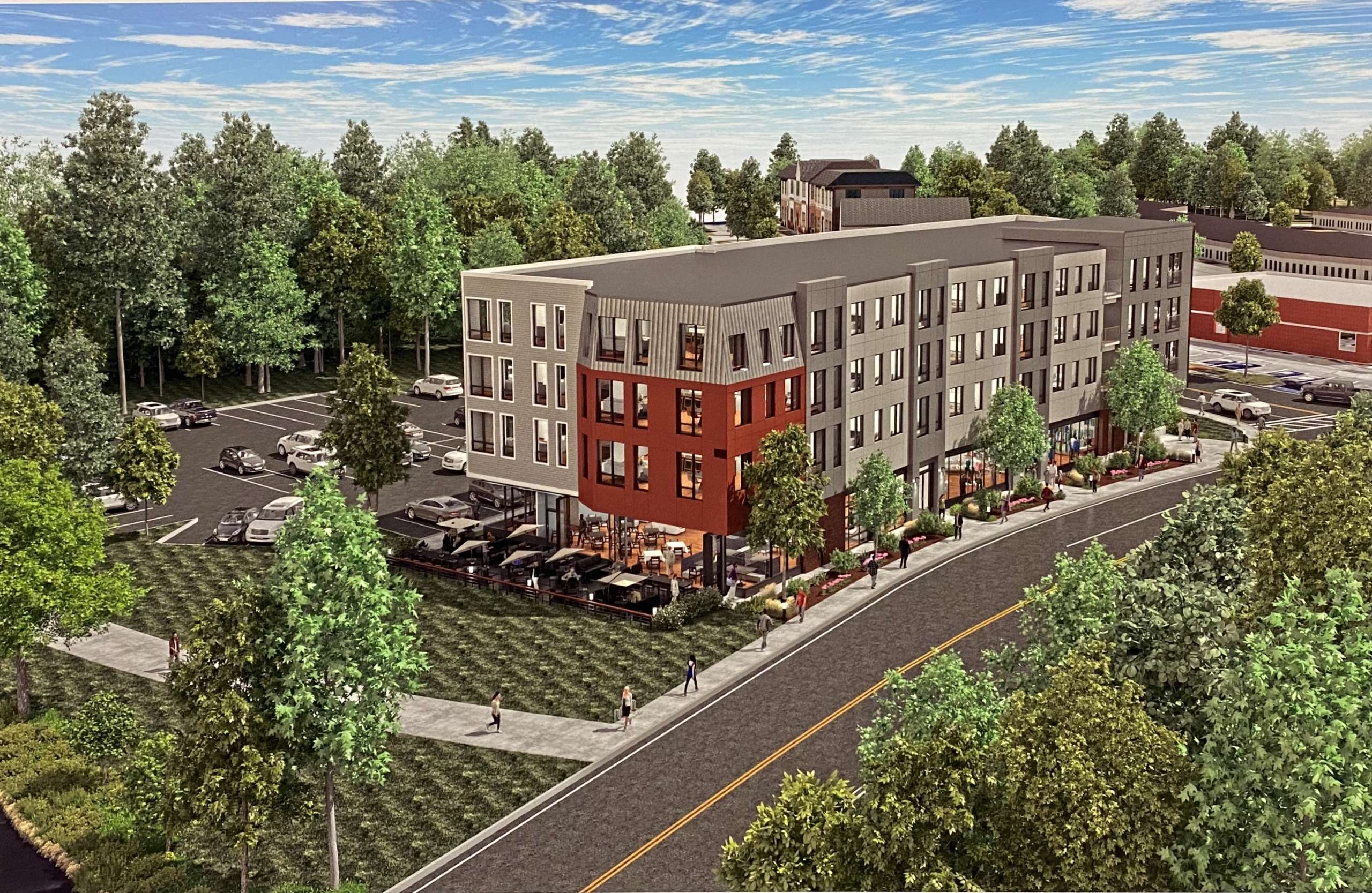 It was a very hard day for me. Over 2 years had passed since I initially saw this lot, which clearly wasn't being used to its natural potential (was an auto shop and hobby store), sited on a highly trafficked corner lot, across from a McDonalds, across from wetlands… and on a gorgeous riverbank with great views.
For the video version of this day in December – Check out the Facebook live
I knew, in my heart, this project was destined to be ours. To give back to the community I grew up in, to make a landmark all travelers coming in from Lowell or commuting through to Burlington would see. AND – I could relocate my office to a beautiful new location with even a food establishment on site, that had a patio overlooking the waterfront. And on top of it all, I could clean up Billerica's water by installing a filtration system to finally clean up all of the runoff generated by the oily, leaky cars, that was just flowing freely into the river (and the drinking water for the town)…
And as we went through the project and saw how pricey it was to really clean up the site the way we wanted to, and level out the access points, expand the green space and curbing, etc… we were introduced to the PUD and entertained condos to help offset this cost – but also to create more well priced housing units in this awesome new location. And the best part was – everything we designed at first, met ALL the bylaws, but still needed special permit approvals from the boards.
Well, after months and months of lunches, attracting local restaurateurs that I had handpicked, politicking, gathering zoning board approval, anti-development politicians and residents gathering and spreading lies and hatred to feel important and protect their political bases, my house getting egged, and the while getting LOTS of love and support on Facebook and other social engines from people who were just too afraid to show their face due to the intimidation they were receiving… (there were really only 6 very loud opponents, but I learned that opponents will always be louder the supporters, it's the nature of the game!)
I then started the planning board hearings, and worked with them to:
– Reduce the height
– Increase parking (and removing our office and retail component)
– Lower the unit count from 30 to 23 (which effectively eliminated any "profit" that our lenders wanted to see in the project)
– Add affordable units which then brought unit count back up to 26
– Expand the curbing further and sidewalk improvements
– Shore up and clean up the waterfront and add many new plantings
…. But it apparently wasn't enough. The final night of the Planning Board hearings, the anti-development group won the battle over OUR project, as well as the Billerica Mall redevelopment – we were both denied the same night.
Then the attorneys and even some powerful people in town spoke with me – and let me know I would absolutely win a legal battle if we appealed the case. Attorneys came in at an estimated $50K to battle, and they said we'd win, but most likely the court would kick it back to the board for reconsideration… costing me another 12 months and so much more frustration…
I tried working with the new sellers (the seller I had a close relationship with had passed away during this ordeal) for some relief on the price or payments to help cover these extra legal fees and elongated time period, and got no luck there – they were not yet even aware of what I had just been through.
But would I really just let $50K bring this whole thing to an end?
And I started thinking. Did I want to go through this yet again? Yes, this was my passion project – but at what COST? And not even the $250K I had already sunk into it – what COST to my time? What opportunities was I NOT acting on because this was taking all my effort and energy? Finally my soulmate looked me right in the eyes and said
"I miss the old version of you, before this project. I'm so exhausted watching you burn through everything you have to appease everyone, and meanwhile, it's sucking all your cash, time, and energy you COULD be investing into other things. What COULD you be doing if you ended this?"
That's all I needed to hear.
So we made the fateful decision that day in December, to pull the plug. And shake off the feelings that the "anti-development groups had won," or that "I wasn't strong enough to weather the storm," or that "I would never have an opportunity like this again…"
Because all that, is just false.
As SOON as I shifted my energy, we finally had traction and movement on some of the other development projects we were working on. We all of a sudden had deals coming in to us via marketing channels that had gone dormant for years. Even our coaching business, which we had not worked in for a couple years, it had new life breathed into it and new minds and branding…
And we are on track for 2021 to be our BEST. YEAR. EVER.
Knowing where to DRAW THE LINE on projects, relationships, commitments, etc, is so incredibly important.
Sometimes you have to know when to cut the cord.
And while you don't know if you'll free fall….
Chances are, with a little Faith, you'll land on a trampoline and spring back, way further than where you let go. See you at the top, friends.
PS – Be sure to connect with my new Page on Facebook, as it's where I'm posting most of our new content!
https://aarealestategroup.com/wp-content/uploads/Boston-Project-2-scaled.jpg
1667
2560
Nick Aalerud
https://aarealestategroup.com/wp-content/uploads/aa_real_estate_logos_final_group-300x112.png
Nick Aalerud
2021-04-13 23:26:48
2021-04-15 02:26:10
Cutting Losses & Drawing Lines!