So it's been way too long since we paid attention to this written blog. Everything has gone to QUICK snippets – mainly video on a social media page/group/post/insta/tweet/snap/ holy cow there are too many to mention.
That said – and with a million rehabs (7 concurrently) and a bazillion deals to analyze (hundreds per week!) we've been INSANELY busy.
We also have a ton of changes we are implementing – most of them, we'll be posting here on on our social channels, so be sure to LIKE, SUB and FOLLOW us using our links…
AA Real Estate Group Facebook Page
AA Real Estate Group YouTube Channel – @AARealEstateProps
@AARealEstateGroup – Instagram
Here's a quick rundown of a few of the big changes:
New Acquisitions Department!
Knowing that in order to scale and help more sellers as we grow to be the top real estate buyer in the Greater Boston and Southern NH markets, we needed some super high quality people that believed in our core values – Integrity, Giving First, and Service to Others – to believe in our mission and come on board to treat our sellers and customers the way they want to be treated. With our goal of getting positive testimonial from every seller we encounter who engages us (whether we can purchase their home or not), we're moving forward on offering each person who calls a way to help.
We are SUPER excited and are investing most of our time in training these 5-star individuals as they represent our powerful brand. Stay tuned for an announcement of the new website where you can meet them all.
2. Welcome our new Director of Operations
With change comes growth, and with growth comes opportunity. We are SUPER excited to welcome this unique individual aboard in a Director role. You'll know why when you hear him speak. A total match with our mindset, our path to success, and the desire to see others push forward and succeed in a #GiveFirst manner.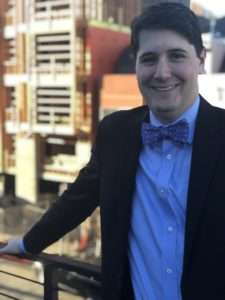 Matt is coming on as a full Director of Ops, but he's also serving as the head trainer for the Solutions Team (our buying group) and also as a coach for those real estate teams and investors looking for help and coaching (more details found on AARealEstateMentor.com). If you have not reached out to him yet, he'd love to connect. Feel free to connect with him via the social media channels above or through our Contact Us page.
Alternatively – you can learn more about him on our recent #ShutUpAndDoIt Podcast HERE: https://youtu.be/nAdUA5F310E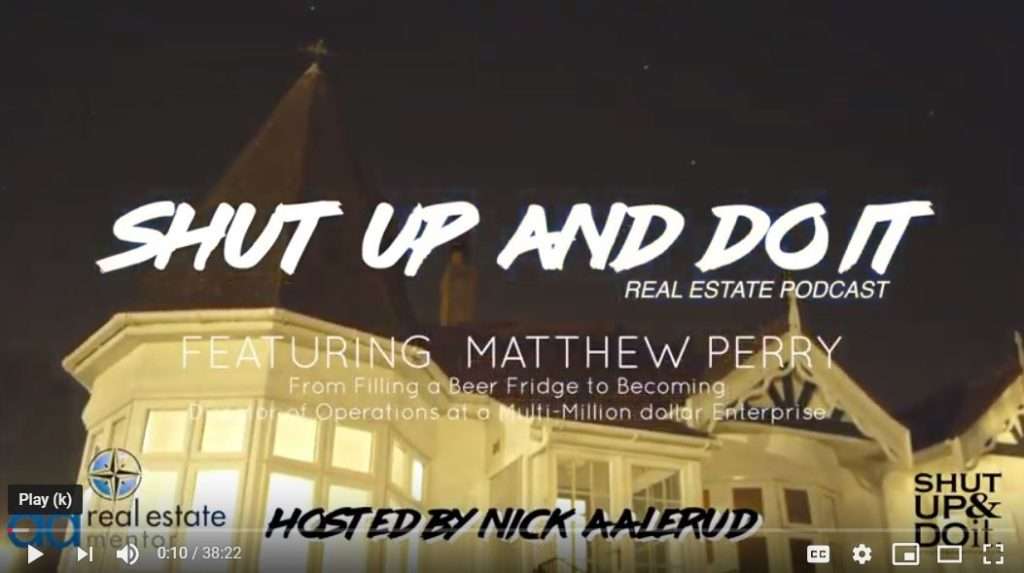 3. Portfolio Growth:
We are actively growing our Portfolio with rentals and larger-scale multifamilies in Central MA, Southern NH and even Eastern OH (a post on that later!) – but we're SUPER excited about a particular commercial development project, first of its kind in #Billerica!
As many of you know – I (Nick) grew up in a town about 25 minutes north of Boston, and while I claimed to never be a "townie", I moved back after bouncing around in several cities and towns…and I couldn't be happier. With a brand new $75M high school being built and a town that's the second largest in the state (but still retains its town meeting and "local" feel), it has proven to really welcome growth and development, and the parcel I've been wanting for 5 years, is finally within our grasp.
We will most likely be looking for partners on this project – so while I cannot divulge any details unless we already know eachother, I'd love to connect in any way to learn more about you and your businesses, and see if anything we have might be a fit with your goals.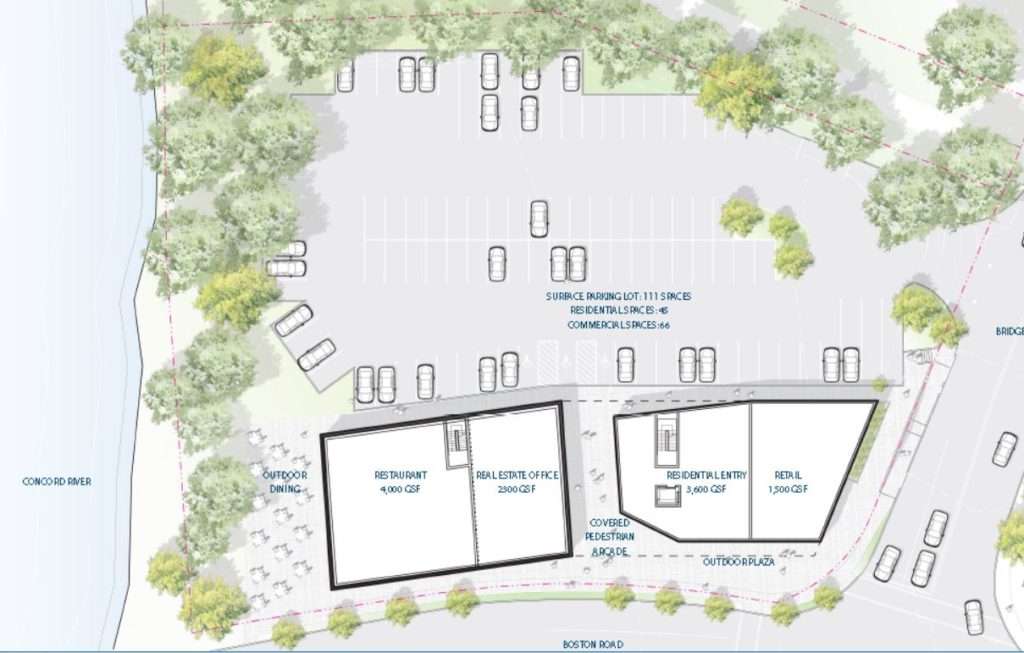 That's the best brain dump I have for now… as always, we appreciate you following us, and let's grow together!
---
Who Are We?
The AA Real Estate Group (www.AARealEstateGroup.com) is a Greater Boston based redevelopment company that specializes in working with and assisting sellers of real property, buying, fixing, building and selling "AA" quality homes.

Under our umbrella, we have a sales and marketing arm that specializes in unique marketing methods and partnerships with our agents (www.AAPremierProperties.com), a Short Sale negotiation company that services real estate agents, attorneys, and homeowners get out from underneath their debt (www.ShortSaleMitigation.net), and an educational arm that helps newer #rehabbers, #wholesalers and #landlords learn how to keep consistent deals coming in and really ramping up the business side of a real estate company (www.GetMoreOffMarketDeals.com).
Follow us on Instagram, Facebook, Twitter and YouTube!
The Relationships Of Today, Become the Projects of Tomorrow.

Cash Offers in 48 Hours – Even if We Can't Buy, We Still Can Help!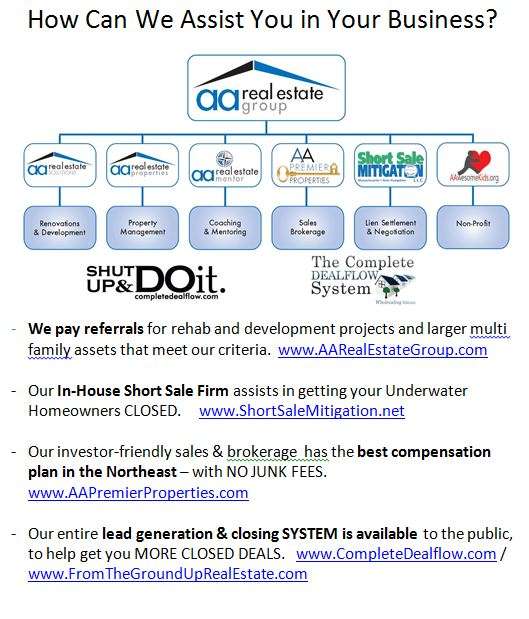 https://aarealestategroup.com/wp-content/uploads/aa_real_estate_logos_final_group-300x112.png
0
0
Nick Aalerud
https://aarealestategroup.com/wp-content/uploads/aa_real_estate_logos_final_group-300x112.png
Nick Aalerud
2019-02-16 20:17:25
2019-02-16 20:17:27
Catchup Post – And Welcome to a New Team Member!